+DANMAR NOW ACCEPTS CREDIT CARDS…
3.75% will be added to final payment
*********************************************************************************
PUPPIES   PUPPIES   PUPPIES!!!!!!!

SCROLL DOWN TO SEE PARENTS AND PUPPIES
*********************************************************************************
*****SCROLL DOWN THE PAGE TO SEE OUR NEW ARRIVALS AND WHO'S EXPECTING NEXT******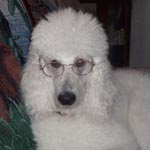 DOG:
BEST FRIEND, FAITHFUL, LOYAL, LOVEABLE, BRAVE AND TRUE COMPANION……
Welcome to Danmar Labradoodles located in Beautiful South Carolina. We are a small "home based" breeder, not a kennel, breeding the Highest Quality Labradoodle Puppies. We breed all generations of Labradoodles; F1, F1B, F2 as well as American and Australian Multigenerational Labradoodle puppies. In order to keep our lines clean (no back breeding or line breeding) when breeding the higher generation Labradoodle puppies, ie; 4th, 5th and higher, it is our choice to go back to the original infusion of the 2nd generation or higher Cock-a-Poo. We breed Standard Labradoodles, Medium Labradoodles, and Mini Labradoodles. Our mini Labradoodles are bred down naturally starting with the Standard Poodle and English Stature Labrador Retriever within our own program….We like to think of our Mini Labradoodle Puppies of having a Large dog temperament in a small package. Our Labradoodle puppies are raised in our home with lots of daily TLC. Besides health, Temperament and coat are our main focus in developing an all around 4 legged family companion Labradoodle puppy/dog.
We travel back and forth between Sunny South Florida and South Carolina with all our Labradoodle puppy litters once vaccinated. We are experienced shippers for those families that can not come to our home for a visit but we also offer PERSONALIZED DELIVERY SERVICE (which we prefer) We will deliver your Labradoodle puppy (for the same price as cargo cost, depending on where the puppy is going, in some cases we charge only gas coverage, any overage Danmar Labradoodles will cover) in person via as a carryon on the aircraft or drive your Labradoodle puppy directly to your home. We drive to many states as well surrounding South Carolina, such as North Carolina, Virginia, West Virginia, Tennessee, Alabama, Georgia and Florida. As well as any other states necessary. No destination is too far to insure the safety of our Labradoodle puppies.
Hopefully you will find our website informative and if you have further questions do not hesitate in contacting us any time.
My cell phone is the easiest way to reach me.
Marlene Sapp
843-420-5238 (H) or 561-281-1625(C)
marlene_sapp7@hotmail.com
DANMAR LABRADOODLES
Breeding F2's, American and Australian Multigenerational Labradoodles of the Highest Quality in Health, Temperament, and Conformation.
JOIN US ON FACEBOOK….
Click on this Link https://www.facebook.com/marlene.sapp.5?fref=ts
__________________________________________
PUPPIES HAVE ARRIVED….5/16/2016

SASHA                  and           GUY
MINI (16-18 pounds) 4th generation Australian Multigen Labradoodles…CARAMEL

GOING TO THEIR FOREVER HOMES…THE WEEKEND OF JULY 9th, 2016

"2" males available

TEAL BAND BOY       BLACK BAND BOY
SERIOUS INQUIRIES ONLY PLEASE
________________________________________________________
JOSIE               and          GIANNI of Tuscan Ridge Labradoodles
MEDIUM (25-30 pounds) 4th generation Australian Multigen Labradoodles…5 CHOCOLATE FEMALES AVAILABLE

white band girl                       pink band girl               red band girl
orange band girl                   purple band girl                   pink band girl
STILL ACCEPTING DEPOSITS

________________________________________________________
MAGGIE                 and                   GUY
MINI (16-18pouds) 5th generation Australian Multigen Labradoodles…A variety of colors including PARTI and possible PHANTOM…estimated due date:  JUNE 14th….going to their forever homes SECOND WEEK OF AUGUST
ACCEPTING DEPOSITS
BELLA      and      WINSTON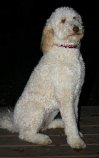 ________________________________________________________
STANDARD (50 POUNDS PLUS) F3 labradoodles chocolate and cream expected.
DUE DATE….JULY 7/26/16   going home the week of Sept, 20th.
deposits now being accepted
---

BUTKUS AT FOLLY BEACH
---
HAPPY FALL Y'ALL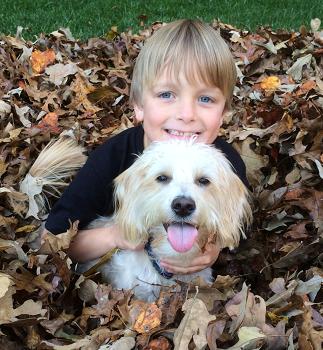 ________________________________________________________
HAPPY 2016    HAPPY VALENTINES DAY 2016   HAPPY ST PATTY'S DAY   HAPPY EASTER

---
A CHILD AND HER PUPPY….it doesn't get much cuter than this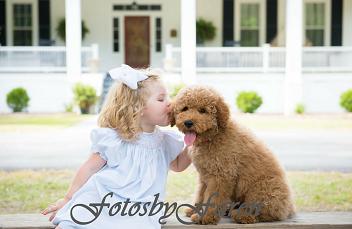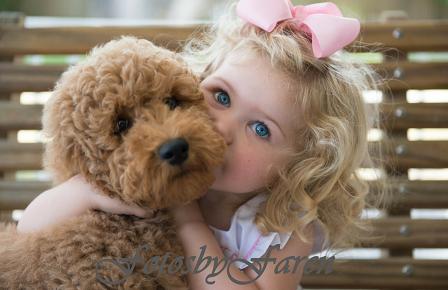 This is a Gabrielle and Rocco Billagio puppy with his new forever FRIEND
---
An animal's eyes have the power to speak a great language.
~ Martin Buber
Check out our
General Information
page for coats produced by our dogs in our program as well as informative information.
click on AVAILABLE PUPPIES to view our pups looking for their FOREVER HOME.
http://www.nuvet.com/products.html?sectionid=56
843-420-5238 (h) or 561-281-1625 (c)

A DOG WAGS IT'S TAIL WITH IT'S HEART…MARTIN BUXBAUM
BENTLEY….
GONE BUT WILL NEVER BE FORGOTTEN…
REST IN PEACE MY FAITHFUL FRIEND
ALWAYS AND FOREVER IN MY HEART….